About
There's things that happen in a person's life that are so scorched in the memory and burned into the heart that there's no forgetting them.
Newer posts are loading.

You are at the newest post.
Click here
to check if anything new just came in.
January
18
2015
What Is Heel Discomfort And A Way To Cure It
Overview
Plantar fasciitis is a condition characterised by damage and inflammation to the plantar fascia (i.e. the connective tissue on the sole of the foot forming the inner arch. This usually occurs at the attachment of the plantar fascia to the heel bone. Plantar fasciitis is the most common cause of heel pain seen in clinical practice. During walking or running, tension is placed through the plantar fascia. When this tension is excessive (often due to poor foot biomechanics such as flat feet or if it is too repetitive or forceful, damage to the plantar fascia can occur. Plantar fasciitis is a condition where there is damage to the plantar fascia with subsequent inflammation and degeneration. This may occur traumatically due to a high force going through the plantar fascia beyond what it can withstand or, more commonly, due to gradual wear and tear associated with overuse. Occasionally, a heel spur may develop in association with plantar fasciitis.
Causes
When the foot moves, the plantar fascia stretches and contracts. Plantar fasciitis is caused by the repetitive overstretching of the plantar fascia. If the tension on the plantar fascia is too great, this overstretching causes small tears in the plantar fascia. This in turn causes the plantar fascia to become inflamed and painful. Factors that contribute to the development of plantar fasciitis include having very high arches or flat feet, gender, while anyone can develop plantar fasciitis, it tends to occur more commonly in women, exercises such as running, walking and dancing, particularly if the calf muscles are tight. Activities or occupations that involve walking or standing for long periods of time, particularly on hard surfaces, wearing high heeled shoes or shoes that do not offer adequate arch support and cushioning, being overweight, additional weight increases the tension on the plantar fascia, poor biomechanics, extra tension is placed on the plantar fascia if weight is not spread evenly when standing, walking or running. Some cases of plantar fasciitis may be linked to underlying diseases that cause arthritis, such as ankylosing spondylitis.
Symptoms
The symptoms of plantar fasciitis are pain on the bottom of the heel, pain in the arch of the foot, pain that is usually worse upon arising, pain that increases over a period of months. People with plantar fasciitis often describe the pain as worse when they get up in the morning or after they've been sitting for long periods of time. After a few minutes of walking the pain decreases, because walking stretches the fascia. For some people the pain subsides but returns after spending long periods of time on their feet.
Diagnosis
After you describe your symptoms and discuss your concerns, your doctor will examine your foot. Your doctor will look for these signs. A high arch, an area of maximum tenderness on the bottom of your foot, just in front of your heel bone. Pain that gets worse when you flex your foot and the doctor pushes on the plantar fascia. The pain improves when you point your toes down. Limited "up" motion of your ankle. Your doctor may order imaging tests to help make sure your heel pain is caused by plantar fasciitis and not another problem. X-rays provide clear images of bones. They are useful in ruling out other causes of heel pain, such as fractures or arthritis. Heel spurs can be seen on an x-ray. Other imaging tests, such as magnetic resonance imaging (MRI) and ultrasound, are not routinely used to diagnose plantar fasciitis. They are rarely ordered. An MRI scan may be used if the heel pain is not relieved by initial treatment methods.
Non Surgical Treatment
Anti-inflammatory medications can help decrease the inflammation in the arch and heel of your foot. These medications include Advil, Mtrin, Ibuprofen, and Aleve. Use the medication as directed on the package. If you tolerate it well, take it daily for two weeks then discontinue for one week. If symptoms worsen or return, resume for two weeks, then stop. You should eat when taking these medications, as they can be hard on your stomach. Ach Support. Over the counter inserts provide added arch support and soft cushion. Based on the individual needs of your foot, you may require custom inserts. Achilles Tendon Stretch. Pace a shoe insert under your affected foot. Place your affected leg behind your unaffected leg with the toes of your back foot pointed towards the heel of your other foot. Lean into the wall. Bend your front knee while keeping your back leg straight with your heel firmly on the ground. Hold the stretch for a count of 10. A set is 10 repetitions. Perform the stretch at least three times a day.
Surgical Treatment
When more conservative methods have failed to reduce plantar fasciitis pain, your doctor may suggest extracorporeal shock wave therapy, which is used to treat chronic plantar fasciitis. Extracorporeal shock wave therapy uses sound waves to stimulate healing, but may cause bruises, numbness, tingling, swelling, and pain. When all else fails, surgery may be recommended to detach the plantar fascia from the heel bone. Few people need surgery to treat the condition.
Prevention
Warm up properly. This means not only stretching prior to a given athletic event, but a gradual rather than sudden increase in volume and intensity over the course of the training season. A frequent cause of plantar fasciitis is a sudden increase of activity without suitable preparation. Avoid activities that cause pain. Running on steep terrain, excessively hard or soft ground, etc can cause unnatural biomechanical strain to the foot, resulting in pain. This is generally a sign of stress leading to injury and should be curtailed or discontinued. Shoes, arch support. Athletic demands placed on the feet, particularly during running events, are extreme. Injury results when supportive structures in the foot have been taxed beyond their recovery capacity. Full support of the feet in well-fitting footwear reduces the likelihood of injury. Rest and rehabilitation. Probably the most important curative therapy for cases of plantar fasciitis is thorough rest. The injured athlete must be prepared to wait out the necessary healing phase, avoiding temptation to return prematurely to athletic activity. Strengthening exercises. Below are two simple strength exercises to help condition the muscles, tendons and joints around the foot and ankle. Plantar Rolling, Place a small tin can or tennis ball under the arch of the affected foot. Slowly move the foot back and forth allowing the tin can or tennis ball to roll around under the arch. This activity will help to stretch, strengthen and massage the affected area. Toe Walking, Stand upright in bare feet and rise up onto the toes and front of the foot. Balance in this position and walk forward in slow, small steps. Maintain an upright, balanced posture, staying as high as possible with each step. Complete three sets of the exercise, with a short break in between sets, for a total of 20 meters.
January
12
2015
What Is Heel Pain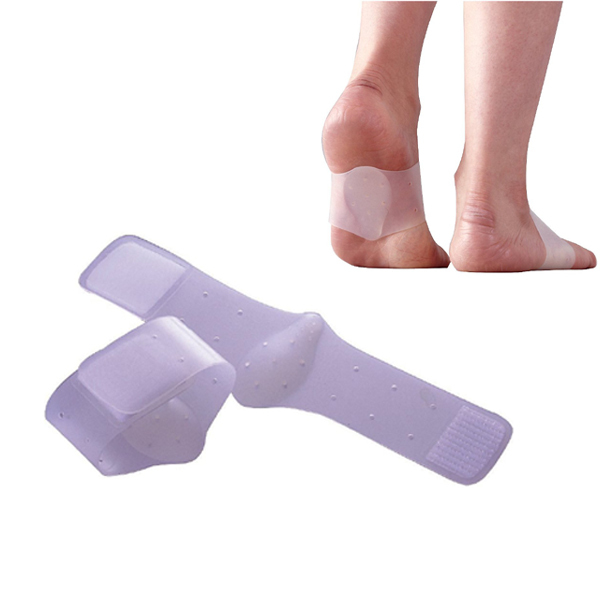 Overview
There are many diagnoses within the differential of heel pain; however, plantar fasciitis is the most common cause of heel pain for which professional care is sought. Approximately 10% of the United States population experiences bouts of heel pain, which results in 1 million visits per year to medical professionals for treatment of plantar fasciitis. The annual cost of treatments for plantar fasciitis is estimated to be between $192 and $376 million dollars. The etiology of this condition is multifactorial, and the condition can occur traumatically; however, most cases are from overuse stresses.
Causes
Plantar fasciitis is caused by straining the ligament that supports your arch. Repeated strain can cause tiny tears in the ligament. These can lead to pain and swelling. This is more likely to happen if your feet roll inward too much when you walk ( excessive pronation ). You have high arches or flat feet. You walk, stand, or run for long periods of time, especially on hard surfaces. You are overweight. You wear shoes that don't fit well or are worn out. You have tight Achilles tendons or calf muscles.
Symptoms
If you are concerned that you may have developed this syndrome, review this list of symptoms to see if they match with your experience. Aching, sharp or burning pain in the sole of your foot, often centering in the heel area. Foot pain that occurs as soon as you step out of bed or get to your feet after prolonged periods of sitting. Pain that may decrease eventually after you've been on your feet for awhile, only to return later in the day. Sudden heel pain or pain that builds gradually. Foot pain that has lasted for more than a few days, or which you experience periodically over the course of months or years. Pain in just one foot, though it is possible to have Plantar Fasciitis affect both feet. Swelling, redness, or feelings of heat in the heel area. Limping.
Diagnosis
If you see a doctor for heel pain, he or she will first ask questions about where you feel the pain. If plantar fasciitis is suspected, the doctor will ask about what activities you've been doing that might be putting you at risk. The doctor will also examine your foot by pressing on it or asking you to flex it to see if that makes the pain worse. If something else might be causing the pain, like a heel spur or a bone fracture, the doctor may order an X-ray to take a look at the bones of your feet. In rare cases, if heel pain doesn't respond to regular treatments, the doctor also might order an MRI scan of your foot. The good news about plantar fasciitis is that it usually goes away after a few months if you do a few simple things like stretching exercises and cutting back on activities that might have caused the problem. Taking over-the-counter medicines can help with pain. It's rare that people need surgery for plantar fasciitis. Doctors only do surgery as a last resort if nothing else eases the pain.
Non Surgical Treatment
Over-the-counter Orthotics. A soft, over-the-counter orthotic (Prefabricated orthotic) with an accommodating arch support has proven to be quite helpful in the management of plantar fascia symptoms. Studies demonstrate that it is NOT necessary to obtain a custom orthotic for the treatment of this problem. Comfort Shoes. Shoes with a stiff sole, rocker-bottom contour, and a comfortable leather upper combined with an over-the-counter orthotic or a padded heel can be very helpful in the treatment of plantar fasciitis. Anti-Inflammatory Medication (NSAIDs): A short course of over-the-counter anti-inflammatory medications may be helpful in managing plantar fasciitis symptoms providing the patient does not have any contra-indications such as a history of stomach ulcers. Activity Modification Any activity that has recently been started, such as a new running routine or a new exercise at the gym that may have increased loading through the heel area, should be stopped on a temporary basis until the symptoms have resolved. At that point, these activities can be gradually started again. Also, any activity changes (ex. sitting more) that will limit the amount of time a patient is on their feet each day may be helpful. A night splint, which keeps the ankle in a neutral position (right angle) while the patient sleeps, can be very helpful in alleviating the significant morning symptoms. A night splint may be prescribed by your physician. Alternatively, it can be ordered online or even obtained in some medical supply stores. This splint is worn nightly for 1-3 weeks until the cycle of pain is broken. Furthermore, this splinting can be reinstituted for a short period of time is symptoms recur.
Surgical Treatment
Most patients have good results from surgery. However, because surgery can result in chronic pain and dissatisfaction, it is recommended only after all nonsurgical measures have been exhausted. The most common complications of release surgery include incomplete relief of pain and nerve damage.
January
08
2015
What Is Heel Discomfort
Overview
A common condition that affects people of all ages. Symptoms include heel pain that is worse upon arising in the morning or standing after prolonged sitting. The pain is caused by inflammation of the plantar fascia, the ligament that connects the heel bone to the toes.
Causes
You are more likely to develop plantar fasciitis if you are Active, sports that place excessive stress on the heel bone and attached tissue, especially if you have tight calf muscles or a stiff ankle from a previous ankle sprain, which limits ankle movement eg. Running, ballet dancing and aerobics. Overweight. Carrying around extra weight increases the strain and stress on your plantar fascia. Pregnant. The weight gain and swelling associated with pregnancy can cause ligaments to become more relaxed, which can lead to mechanical problems and inflammation. On your feet. Having a job that requires a lot of walking or standing on hard surfaces ie factory workers, teachers and waitresses. Flat Feet or High Foot Arches. Changes in the arch of your foot changes the shock absorption ability and can stretch and strain the plantar fascia, which then has to absorb the additional force. Middle-Aged or Older. With ageing the arch of your foot may begin to sag - putting extra stress on the plantar fascia. Wearing shoes with poor support. Weak Foot Arch Muscles. Muscle fatigue allows your plantar fascia to overstress and cause injury. Arthritis. Some types of arthritis can cause inflammation in the tendons in the bottom of your foot, which may lead to plantar fasciitis. Diabetes. Although doctors don't know why, plantar fasciitis occurs more often in people with diabetes.
Symptoms
Pain tends to start gradually, often just in the heel, but it can sometimes be felt along the whole of the plantar fascia. The symptoms are initially worse in the morning and mostly after, rather than during, activity. As the condition becomes worse, the symptoms become more persistent.
Diagnosis
Your doctor will check your feet and watch you stand and walk. He or she will also ask questions about your past health, including what illnesses or injuries you have had. Your symptoms, such as where the pain is and what time of day your foot hurts most. How active you are and what types of physical activity you do. Your doctor may take an X-ray of your foot if he or she suspects a problem with the bones of your foot, such as a stress fracture.
Non Surgical Treatment
Heel cups are used to decrease the impact on the calcaneus and to theoretically decrease the tension on the plantar fascia by elevating the heel on a soft cushion. Although heel cups have been found to be useful by some physicians and patients, in our experience they are more useful in treating patients with fat pad syndrome and heel bruises than patients with plantar fasciitis. In a survey of 411 patients with plantar fasciitis, heel cups were ranked as the least effective of 11 different treatments.
Surgical Treatment
Most practitioners agree that treatment for plantar fasciitis is a slow process. Most cases resolve within a year. If these more conservative measures don't provide relief after this time, your doctor may suggest other treatment. In such cases, or if your heel pain is truly debilitating and interfering with normal activity, your doctor may discuss surgical options with you. The most common surgery for plantar fasciitis is called a plantar fascia release and involves releasing a portion of the plantar fascia from the heel bone. A plantar fascia release can be performed through a regular incision or as endoscopic surgery, where a tiny incision allows a miniature scope to be inserted and surgery to be performed. About one in 20 patients with plantar fasciitis will need surgery. As with any surgery, there is still some chance that you will continue to have pain afterwards.
Could not load more posts
Maybe Soup is currently being updated? I'll try again automatically in a few seconds...
You've reached the end.